Control laboratory & testing
In addition to a tight control of process parameters and incoming raw materials, Epsilon has a long experience of physico-chemical testing (Tg / DMA, DSC, microscopic observations, etc.) and mechanical testing (tensile/compression tests, bending, fatigue, ILSS, etc.)
Our laboratory is also an essential component of our R&D effort, since it allows us to test the performance of the innovative materials we develop, as well as to verify the consistency of our predictive simulations through real tests.
These tests can simulate ageing or environmental aggressions (UV, high temperature, humidity, contaminating fluids, etc.)
Non Destructive Testing
Epsilon has developed a strong expertise in various non-destructive testing technologies that make it possible to detect any defects in the composite parts we produce (delamination, porosity, foreign bodies, dimensional variations).
These methods are particularly used in areas such as energy and aeronautics, where the conformity of parts is crucial for safety.
Some of the Non-Destructive Testing methods used by Epsilon Composite:
Ultrasounds
Micro-tomography (X-rays)
Infrared…
Epsilon has also developed several innovative monitoring technologies specifically for High Voltage conductor cores, according to customer requirements. This includes optical fibers, or other options based on Epsilon patented technologies.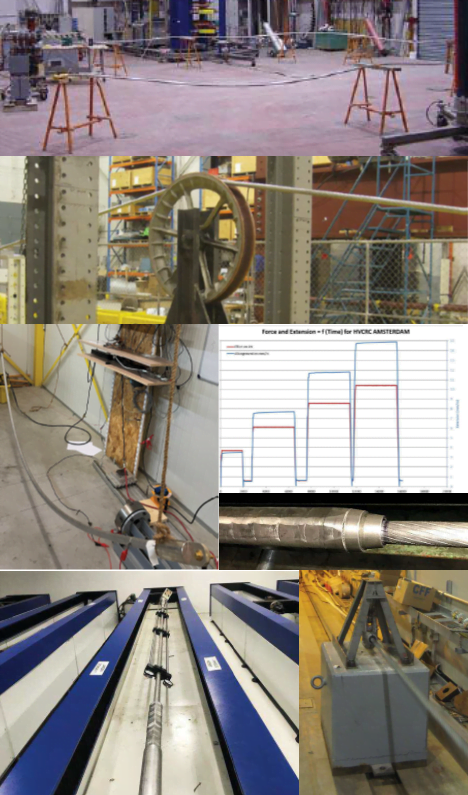 Different type tests performed on different sizes:
Type tests on composite cores
ASTM B987 certification on different diameters
High Strength grade
Extra High strength grade (ULS)
Type tests on conductors
Stress-strain
DC resistance
Ultimate tensile strength
Temperature cycle test
Creep test
Sheaves test
Torsional ductility test
Aeolian vibration
High temperature creep
Type tests on accessories
Tensile test on dead end
Tensile test 168h
Heat cycle test